TACTIMOUNT™ - 45° Rail Mount
Regular price
$19.99
$29.99
Sale price
Save: 33%
In stock now!
📦
FREE Delivery & FREE Returns ( 3-5 DAYS )
Tactimount ™ 45° rail mount allows you to transform your rifle. 

The special ops secret to improving your firearm without modification. 
It's your call: add lasers, flashlights, sights, tactical offsets and more. 

Lightweight, durable and easy to install.

Fits on standard 21mm Picatinny or Weaver style rail.




Easily add what you need to get the job done.
Not all operations are the same. And not all firearms have the modification ability. This can lead to suboptimal hunting and practical experiences. The good news is by having the right mount, none of this is an issue. The Tactimount ™ turns your rifle into anything you need it to be.
/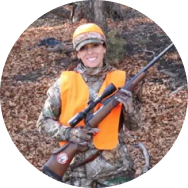 "I bought two of these for my husband and he loved them. Before buying them, I emailed the customer service team with some questions and they were very responsive"
Nicole Birdie - Milwaukee, WI